This 'Up'-Themed Doughnut From Disneyland Will Make Your Day
What's better than something that you can immortalize in a perfect photo and then get to eat right afterwards (we won't blame you if there's a bite taken out before you snap the shot)? The newest item on the dessert menu at Disney is seriously so cute that you'll almost (almost) want to hang it up on your wall instead of eat it: a limited edition Up-themed donut that paints a picture of the beloved, colorful hot air balloon house. According to PureWow, you can find them just outside of the castle at Disneyland, where they're being sold at a donut cart.
But brace yourself, because your day is about to get a whole lot sweeter. Disney is the gift that keeps on giving — specifically, in the form of delectable desserts that are equal parts adorable and delicious. If you can't seem to find the perfect souvenir during your trip to the amusement park, you're in luck. Whether you prefer refreshing shaved ice or warm chocolatey-cupcakes, there's no doubt you'll leave your trip to the Orlando or Anaheim park without your cravings being satisfied. The Disney Parks are brimming with the tastiest and most inventive treats you could possibly imagine, and most are dedicated to fan-favorite characters from BB-8 to Spider-Man. Craving even more? Don't worry, Disney hears you — the list goes on.
,
1

Disneyland's Delicious, Nostalgic 'Up' Themed Donut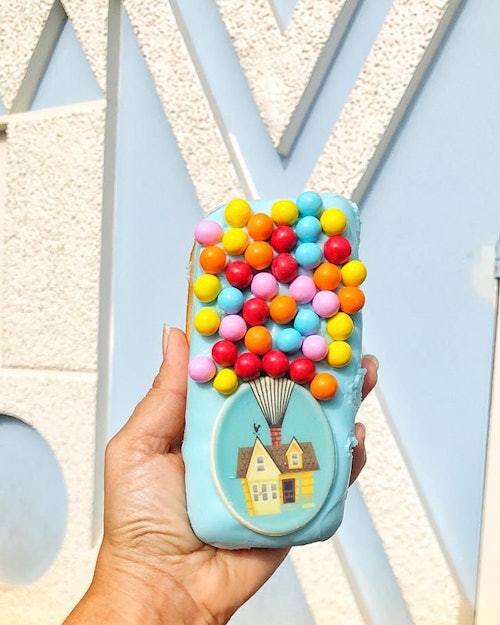 I mean, come on. Look at that. Complete with a surface of sky-blue vanilla icing, balloons in the form of colorful chocolate candy, the white-chocolate flavored house illustration, and, of course, the mouthwatering donut bottom layer, the treat simply has it all. This homage to the heartwarming film is more than enough to satisfy your tastebuds and Instagram feed, as 'grammers like iheartdisneyland know too well.
2

Every Single Millennial Pink Treat at Disney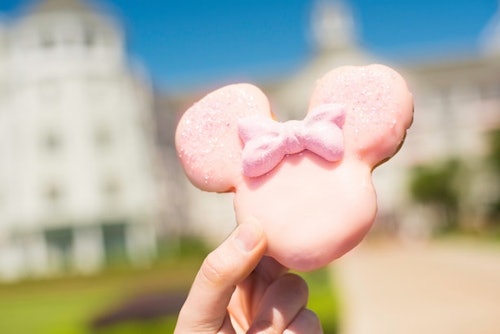 Disney did not come to play when it comes to millennial pink. The parks are overflowing with dessert options in this gorgeous color — the variety is actually so large that it can basically satisfy any kind of sweet craving. If you have cake on your mind, head over to the Polynesian Village Resort or EPCOT for one of the four (I'm talking vanilla with guava cream or chocolate with raspberry, mmm) millennial pink cupcake flavors. Want something smaller? I got you. Try a Rice Krispie Treat-like cake pop or raspberry cream puff. Oh, chocolate's your guilty pleasure? Pop into The Ganachery at Disney Springs for a ganache square or decked out "Millennial Pink Piñata," which is essentially a dome of dark chocolate decorated with vanilla marshmallows, strawberry candy, and white chocolate Minnie Mouse ears. Celebrating your 21st? Toast to your special day with a Fairy Tale Celebration Cuvee, a (you guessed it) millennial pink flute of champagne topped with adorable Minnie ears.
3

Out Of This World Star Wars Treats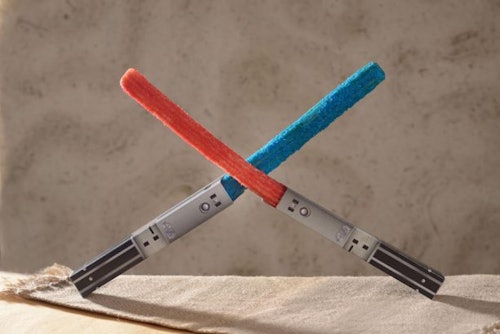 If you're a Star Wars fan, or honestly a fan of sweets in general, you'll absolutely love these next few. Disney is home to several creative Star Wars-themed dishes and desserts, and most of them are nearly too picturesque to eat. Enjoy a super cute BB-8 rice krispie treat or lemon cupcake topped with vanilla frosting and colorful candies at the Backlot Express. Sip something sweet from a giant Chewbacca cup that you can pack up and take home with you once you're done. Brace yourselves for this one: lightsabers now come in the form of limited edition blue churros with decorative ends that look just like the real thing. Somehow, they even managed to make Darth Vader look appetizing: you can devour an edible version of the infamous villain disguised as a rich, chocolate cupcake with peanut butter frosting and tons of chocolate sprinkles.
4

The Super Cute "Mickey's Kitchen Sink"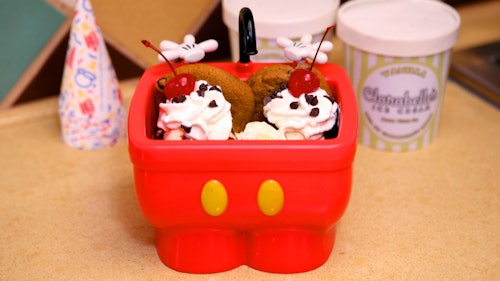 Available at in the Magic Kingdom Park in Walt Disney World, this indulgent dessert is designed to be shared among a few friends (I know, I know, I wouldn't want to share either). It comes with freshly scooped chocolate, vanilla, and strawberry ice cream drizzled in hot fudge and topped with whipped cream, chocolate chips, and cherries inside of a sink shaped like Mickey's famous pants. Oh, and there's delicious chocolate chip cookies on the side. This is definitely a must-have — you can find it at the Plaza Ice Cream Parlor and Plaza Restaurant on Main Street.
5

The Marvel Desserts You Didn't Know You Needed In Your Life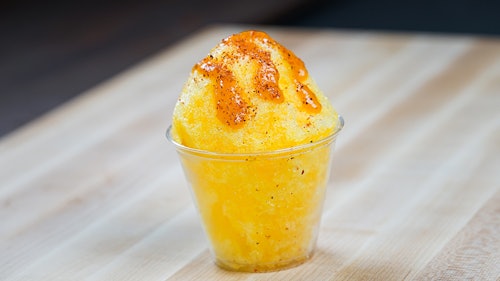 OK, these are seriously to die for. Marvel fans at Disney won't be disappointed by the array of insanely cool superhero-themed desserts — and the flavors are inventive as well. If you're melting in the Florida heat, you can pick up a Bifrostie, a nod toward Thor in the form of a refreshing cup of shaved ice (flavors include everything from raspberry to chili-lime spice). The Spider-Bite donut has a kick to it, with blasts of flavor in the cinnamon candies that decorate its edges and an additional hint of cinnamon in the red vanilla frosting. Coming in hot next is the Gamma-Sized Donut, with green vanilla icing and purple sprinkles in tribute to everyone's favorite Avenger, Mark Ruffalo — I mean, The Hulk. Inside, there's another surprise: mouthwatering blackberry jelly. Now, it's time for an honorable mention (this one isn't exactly a dessert but it's too adorable not to add): Groot Bread. Yes, you heard that right. The adorable sentient tree-being, also known as the pride and joy of Guardians of the Galaxy, now exists as a delicious slice of sourdough bread shaped to look exactly like Groot (it even has olives for eyes).